We offer various services to riparian and non-riparian property owners in the watersheds of the English and Trout Rivers. To find out if you qualify for one of our current projects or for more information, contact us!
---
We can lend a hand with the conservation of natural habitats on private property. Voluntary conservation is taking charge of the natural heritage on private land by the people who own it, who live there or who benefit from it. Several conservation options are available.
We offer owner notebooks which describe the wetlands, forests, wildlife, and water species on your specific property, along with a series of recommendations and suggestions for developing and protecting your property's natural biodiversity. The objective of this booklet is to support you in your desire to better protect your natural heritage and the endangered species which live on your land.
Owner notebook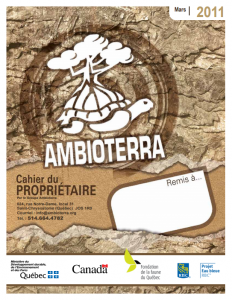 To view a sample, click on the image!